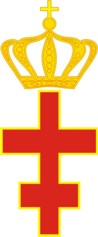 L'Ordre Suprême Militaire du Temple de Jérusalem (ORDO SUPREMUS MILITARIS TEMPLI HIROSOLYMITANI – O.S.M.T.H.), de par sa tradition un ordre chrétien, oecuménique, chevaleresque, cosmopolite, indépendent et apolitique, est régi par les suivants Actes Suprêmes: les Règles écrites par Saint Bernard ; la Charte de la Transmission, émise par le 23ème Grand Maître F. Johannes Larmenius le 13 février 1324 et souscrite par les Grands Maîtres aux successeurs ; les Statuts Généraux décrétés au Chapitre Général qui a été tenu en 1705 à Versailles ; les Statuts 1947 (Procès-Verbal du 27 décembre 1946) ; et les Décrets Magistraux, modifiés et actualisés dans le Statut.
Les Principes auxquels ont souscrit, de bon coeur et sincèrement, tous ceux qui appartiennent à notre Ordre, tout en se proposant pour but de les appliquer au bénéfice de la société roumaine, sont :
- La sauvegarde de notre Foi, de la Sainte Eglise et de la Civilisation Chrétiennes;
- La perpetuité de la présence et de l'influence chrétiennes dans la Sainte Terre;
- La mise au service des gens desherités, démunies et des malades, ainsi que l'encouragement des activités humanitaires et charitables;
- La sauvegarde des innocents, victimes des erreurs de la justice.
- L'édification spirituelle des membres de l'Ordre;
- A part les thèmes urgents de sa vocation traditionnelle, l'Ordre se propose également d'accomplir le recensement, la restauration et la conservation, aussi que la recherche scientifique, des monuments et des archives qui témoignent des anciens principes et engagements assumés par le Temple et de son héritage spirituel. L'Ordre encourage également les études portant sur l'histoire, l'héraldique, la généalogie, la philosophie et la religion qui se rapportent à son passé, de même qu'à sa vocation et à sa spiritualité actuelles.

The Sovereign Military Order of the Temple of Jerusalem (ORDO SUPREMUS MILITARIS TEMPLI HIROSOLYMITANI – O.S.M.T.H.), a traditional Christian, ecumenical, chivalric, cosmopolitan, independent and non-political international order, is ruled by the following Sovereign Acts: the Rules written by Saint Bernard; The Chart of Transmission, issued by the 23rd Grand Master F. Johannes Larmenius on February 13th, 1324 and subscribed to by his succeeding Grand Masters; the General Statutes decreed upon on the occasion of the General Chapter held in Versailles in 1705; the Statutes from 1947 (the Minute dated December 27th 1946); and the Magistral Decrees; as revised and updated through the Statutes of the Order.
The Principles that each and every fellow member of the Order has subscribed to with an open heart and strongly willing to implement to the benefit and the welfare of the society at large are to:
- Safeguard our Christian Faith, our Saint Church and our Christian Civilization;
- Maintain the Christian presence and influence in the Holy Land and its expansion thorughout the world;
- Support and serve the unpriviledged, the poor and the sick, as well as encourage and promote the Christian humanitarian works and charity;
- Stand up for and protect the prejudiced;
- Promote the moral and spiritual strengthening of our Order;
- Apart from the significant themes of its traditional calling, the Order of the Temple is equally involved in carrying out the census, restauration, preservation and research on monuments and archives that give evidence of the ancient principles and commitments assumed by the Temple, as well as its spiritual legacy. At the same time, the Order fosters research works on history, heraldry, genealogy, philosophy and religion that deal with its past, as well as its present calling and spirituality.